In 2021, CEO and founder Mark Zuckerberg announced that Facebook would be changing its name to "Meta". The plan is for Meta to build a "metaverse": a virtual reality where people can have experiences and interactions through the internet without being in any one particular physical location. Zuckerberg says that it isn't about encouraging users to spend more time using social media but about deepening and enriching the time we already spend using it. In essence, the time we spend immersed with our screens and other people's lives may as well be virtual reality. 
Meta is one of the world's most influential and valuable companies. Formerly Facebook and originally FaceMash, the site was founded in 2003 for college students to upload pictures of their classmates and peers to rate their attractiveness. The "face book" became a directory of faces, names, and basic profile information. It evolved into a social networking site where people could upload their own images and updates using their real names, forming an online identity that seemed more realistic than an anonymous profile with a pseudonymous username.
Over the last decade, the world has become infatuated with social media. It isn't uncommon to hear about people who have developed an addiction to social media or people who prefer social media influencers and personalities over real people in their lives. Has social media become less of a tool of communication and more of a tool of distraction and disorder?
The pros and cons of social media are regularly discussed and debated. Social media is credited for providing people with a way to stay in touch with friends and loved ones and even form new relationships and friendships with those who don't live in the same neighborhood or city. In that sense, social media is viewed as a powerful communication tool that empowers us to stay connected through the internet, without physical constraints. However, social media is also blamed for incentivizing inauthenticity, lies, and bullying. Reports show that young children and teenagers, especially girls, now experience more anxiety and body image issues than ever before as a result of comparing themselves to digitally altered images of those who fit societal definitions of attractiveness. 
The most concerning outlook on social media is that it creates an addiction where people would rather scroll endlessly in the comforts of their own home than to be at a cafe, restaurant, office, park, or someone else's house to interact with people in person. But this can lead to social isolation and unhappiness. Humans need food to survive, and we also need a sense of connection with others to be happy.
And on the note of food and connection, many people love to eat, and many people love to eat with other people during brunch, lunch, or dinner. It is one of the best ways to encourage everyone to put down their phones and have face-to-face conversations. Consider hiring a landscaper to design and build a custom outdoor kitchen for you. Cooking with others promotes bonding and spending time outside promotes relaxation.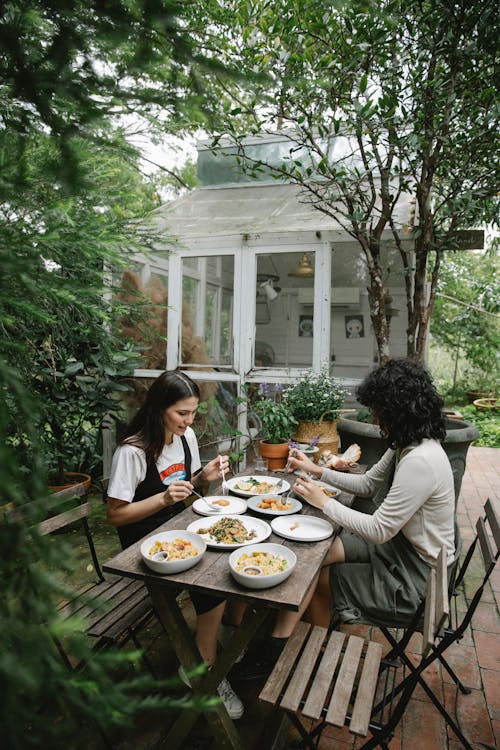 Torrey Pines Landscaping is a professional San Diego Landscaper that can transform your home into a welcoming space for cooking and entertaining. Social dining is one of the oldest and most beloved ways to socialize, and it may be more important now than ever before.